SMP Law is Sponsoring the OHL Mississauga Steelheads!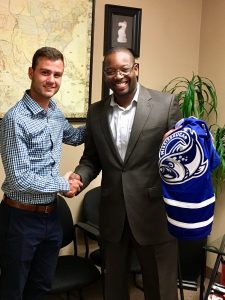 SAVE THE DATES!
October 6, 2017 and February 9, 2018 is SMP Law Day at the Hershey Centre, the home of the Ontario Hockey League's Mississauga Steelheads.
I recently met with John Carbone of the Mississauga Steelheads to finalize SMP Law's sponsorship of this great OHL team for the 2017/2018 season. The SMP Law team is looking forward to attending the games and we hope our friends will join us in following the team's season.
On Friday October 6, 2017 the Steelheads faceoff against the Sudbury Wolves and on Friday February 9, 2018 we welcome the Barrie Colts to the Hershey Centre. Both of these nights will be dedicated to the friends of SMP Law. Not only is SMP Law sponsoring these games, we will also be raffling off some amazing prizes and handing out some gifts at the door to the first 300 to attend our table. Hope to see you at the game!
To ensure you do not miss out, be sure to follow us on Facebook and Twitter as we will be giving out tickets to various Mississauga Steelheads games throughout the season.
Contact us anytime at SMP Law to help SiMPlify your legal matter at 905-565-9494 or email info@smplaw.ca if you have any questions or would like to book an appointment to meet and discuss your situation and how we can help.