Twitter Ticket Giveaway for the Steelheads Final Two Regular Season Home Games!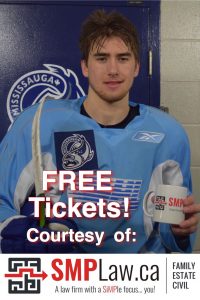 SMP Law has been a proud sponsor of the Mississauga Steelheads hockey team of the Ontario Hockey League for the 2017/2018 season. As the regular season comes to a close, SMP Law is doing a final giveaway on Twitter for the March 16th and March 18th home games. SMP Law is looking forward to cheering on the Steelheads during the playoffs! Fear the Fish!
Follow and retweet us on Twitter for a chance to win a voucher for 4 tickets to attend one of these games!
Contact us anytime at SMP Law to help SiMPlify your legal matter at 905-565-9494 or email info@smplaw.ca if you have any questions or would like to book an appointment to meet and discuss your situation and how we can help.