SMP Law Congratulates The Mississauga Steelheads On a Great Season!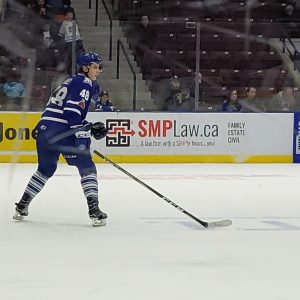 SMP Law congratulates the Mississauga Steelheads on a fantastic season!
Here at SMP Law we are all a little sad to see the season end as we had a lot of fun sponsoring the team this year. From the very beginning, the Steelheads made us feel welcome and like a part of their community. We had the opportunity to meet many of the players and have our pictures taken with them.
Our two sponsor nights, one in October and one in February, were a huge success that included many clients, family, and friends in the community. Some were new to hockey and some were long time fans. Everyone had a great time and those events will not be forgotten any time soon.
SMP Law had the opportunity to give away prizes such as tickets to the games, a signed t-shirt from the players, our own Mississauga Steelheads t-shirts that included their logo and our logo (that we still see in the stands!), mugs, and pens.
SMP Law wishes the Mississauga Steelheads a safe and happy off season!
Contact us anytime at SMP Law to help SiMPlify your legal matter at 905-565-9494 or email info@smplaw.ca if you have any questions or would like to book an appointment to meet and discuss your situation and how we can help.